TREATMENTS
ANTI-AGING TREATMENTS
Total Satisfaction Treatment
$200 / 90 minutes
This anti-aging treatment uses 3 of our newest technologies: L.E.D. Light Therapy Lumi Facial, Non-Surgical Face lift and Oxygen Infusion Treatment. The L.E.D. facial tightens your skin, the Non-Surgical Face lift tightens facial muscles and the Oxygen Infusion Treatment reduces dark circles, fine lines, wrinkles, puffy eyes and dull looking skin.
All 3 treatments increase collagen. Instant results and immediate satisfaction!
Non-Surgical Face lift (microcurrent)
$125 / 60 minutes
As seen on Oprah, this treatment combines the firming of facial muscles while improving the tone, texture and appearance of your skin. This Non-Surgical Face lift utilizes electrical stimulation of the facial muscles to tighten the skin. Your skin will be glowing after this treatment!
Turbo Lift (microcurrent)
$125 / 60 minutes
This quick lift gives you immediate results that last up to 2 days. Perfect for weddings special occasions.
$150 / 60 minutes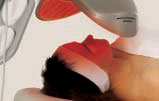 The Soli-Tone uses specific wave lengths of pure spectrum colors – blue, green, yellow, red. Each color has a unique and direct impact on the cells responsible for nagging skin conditions such as: Acne prone skin, Redness and Couperose skin, Pigmentation problems and Photo-aging.Exfoliation is included with this state of the art treatment.
MORE DETAILED INFORMATION
L.E.D. Light Therapy Lumi Lift
$150 / 60 minutes
A revolutionary method of rejuvenating the skin and lifting sagging muscles. A safe and non-invasive alternative to plastic surgery that uses a combination of light energy and micronized currents to stimulate the skin to produce more collagen, smoothing out and softening the appearance of lines and wrinkles.
Oxygen Infusion Treatment (add on only)
$30 / 15 minutes
This treatment is designed to deliver a high volume of pure oxygen directly into the skin without risking irritation or bleaching. Skin cells are detoxified, oxygenated and nourished to make the skin glow and to promote the long term health and beauty of the complexion. May be included in facial in 15 minute increments.