PRODUCTS
ATSUKO BEVERLY HILLS
LIFTING CREAM WITH DHEA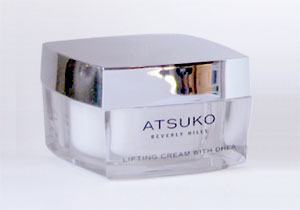 Now available at Four Season's SPA Hualalai, Hawaii
intensive anti-aging treatment
50g $100
Thanks to this rich formula that contains:
Wild Yam extract, a natural source of DHEA, that helps the epidermis look younger and soften the skin.
Vegetal Peptides that act deep within cells to maintain moisture balance and stimulate cellular metabolism.
Evening Primrose Oil that repairs and regenerates the epidermal tissue, Shea Butter, known for its nourishing and protecting uses.
Grape seed extract that reinforces the anti-aging aspects of this intensive treatment.
LIFTING CREAM WITH DHEA cream, by its anti-aging properties proved under pharmaceutical inspection gives back suppleness, firmness, vitality and silky smoothness, to the mature or dry skin.